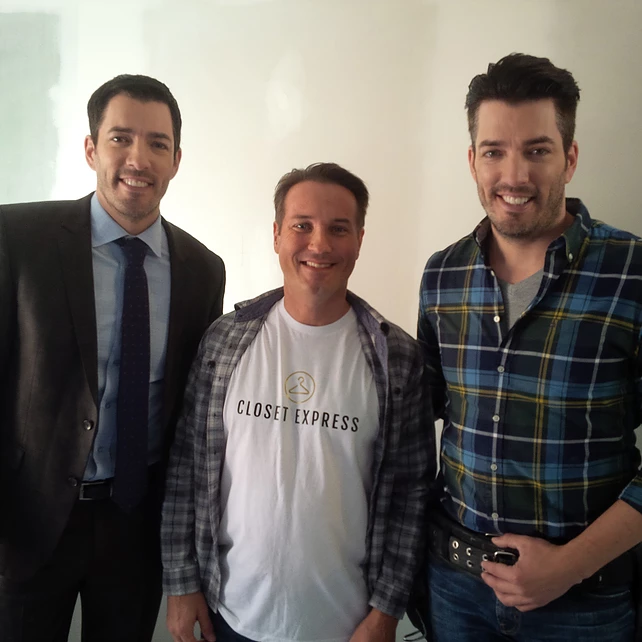 Posted On: Nov 19 - 6 years ago
Closet Express to be Featured in Season 4 of Property Brothers: Buying + Selling
Closet Express was asked to supply and install a closet organization system for a master walk-in closet for an episode of Property Brothers: Buying + Selling being filmed in a Toronto townhouse.
Of course, we jumped at the opportunity to show off our unique, easy to install Canadian-made closet organizers on a popular TV reality series shown in Canada on HGTV. The episode (Season 4, Ep.10) aired on September 18, 2017. You can watch it here:
It was a hectic but fun experience being a part of a TV show. We made closet units for 2 opposing walls, the challenge being a sloping ceiling reducing the height of one of the walls to about 6 feet. We were able to chop 12 inches from the top of our standard 7 foot height organizer and still fit a full stack of drawers and 3 shelves on one side and a medium hanging rod plus one shelf on the other.
Another change was a request to make the drawer faces in a contrasting colour to the white used in the main pieces. We chose a rustic light brown and it turned out beautifully. We also added function with a 24-hanger pull-out pants rack, 20-hook pull-out tie rack, and 5-hook pull-out belt rack.
We got to meet the filming crew and the stars of the show, Drew and Jonathan. They were super nice guys (they are really tall!) and were nice enough to pose for a picture with the owner, Rob. It was amazing to see their talent and professionalism from in front of the camera and behind the scenes. They make it look easy. Jonathan, whose role is general contractor, quickly understood the Closet Express closet organizer system and installed the first unit in minutes. This part was filmed and you will see that almost anyone can do it!