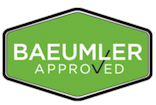 Posted On: Jul 20 - 2 months ago
Closet Express is Baeumler Approved
Closet Express is pleased to announce that it has attained Baeumler Approved membership. Bryan Baeumler is Canada's #1 expert on DIY and many of you will know him from HGTV shows such as Island of Bryan, Leave It To Bryan, and appearances on Rock the Block (season 4) and Battle on the Beach (season 3).
Closet Express went through a rigorous approval process in which we had to demonstrate a verifiable history of quality work and customer satisfaction. Read about it in more detail on the Baeumler Approved website: About – Baeumler Approved
Doing business with a Baeumler Approved member brings peace of mind to the consumer. For those of you too far away to visit our showroom, the only thing you have to go by is our reputation. Why spend thousands of dollars on other brands with questionable quality and poor warranty coverage? Go with a Baeumler Approved closet instead. By getting Baeumler Approved membership, we're confident you will be confident in our product!
To get started on ordering your Baeumler Approved closet, go to our DIY page: DIY Modular Closet Systems | Closet Express