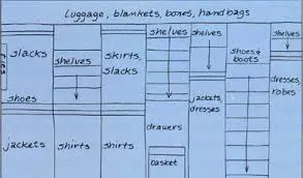 Posted On: Sep 22 - 6 years ago
Closet Design 101
When it comes to designing your dream closet, it might come easy to you, or you might not know where to start and need all the advice you can find. I have talked to people at both ends of the spectrum and in between. Most people I've talked to have a rough idea of how they want their closet to look and function, but just need an expert to help them with some details, offer alternatives, or just give them a second opinion. What I've also found is that many people underestimate their ability to design their own closet. By following a simple process, as I will explain, anyone can do it!
A functional and esthetically pleasing closet design can be realized in a few basic steps:
First, take inventory of your current closet: how many feet of hanging rod do you have? Would you like to increase this (or decrease it if you need to purge some clothing)?
Second, do you have a dresser, chest, armoire, etc. in your bedroom? If so, is the storage space adequate? Or, would you like to get rid of this furniture and store all your clothes in your closet? Your answer will determine how much drawer and shelf space you need in your closet.
Third, is your closet large enough to accommodate your clothing storage needs/wants? If not, you might need to rethink some of your answers to the first two questions.
Organize your closet to increase its storage capacity:
If you presently have just a hanging rod and single high shelf in your closet, a custom closet organizer will greatly increase your storage capacity. Double-hanging rods double your hanging capacity within a given space. Even a tall hanging rod provides an extra shelf. For clothes meant to be folded or just tucked away, drawers, shelves, and even baskets are now possible within your closet. We offer three convenient widths in drawers and baskets: 18, 24, and 30 inches. Drawers come in 2 heights: 5 and 7-1/2 inches, and baskets in 3 heights: 6, 11, and 17 inches. We also have a 25 inch high tilt-out hamper. Our closet organizer structure is 15 inches deep, is wall mounted 82 inches high, and is at least 12 inches above the floor.
Get inspired and design your closet!
Browse through our Gallery (or other websites such as Houzz.com) for inspirational ideas. Have a look through our 23 section designs on our Build It page. Then, make a sketch of your closet with dimensions. Be sure to use our handy measurement form (see Step 1 on our Build It page), to enter dimensions of your closet and chosen sections. If you have a walk-in closet, use one form for each wall. You can choose any of our hanging section designs between 12 and 36 inches wide in increments of 1 inch, thereby maximizing horizontal space. If you have a reach-in closet, ensure that you take into account the door opening if you're planning on including any drawers or basket sections. If you have a walk-in closet, make sure you allow at least 24 inches from a corner when starting an adjacent section, in order to allow for access. If you'll be using opposite walls, consider making the sections symmetrical. They don't need to be an exact mirror image, just try to go with identical section widths and types.
Finally, go to our Accessories page to see if you need to a belt rack, pullout jewelry shelf, or valet rod, to name a few items. Plan where to mount your accessories and make sure that whatever hangs on them or goes into them will fit within the closet organizer.
Hopefully, the above information will allow you to design your dream closet that's both functional and looks fantastic! Please contact us if you need advice or have any questions.